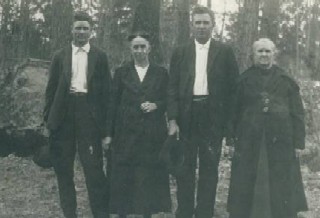 Caroline Rowell
09/06/2002



Above: Granny Caroline Rowell on right with some of her children,Clyde, Susie and Bill(@1920)

Interesting notes about Caroline:

She married Caleb Rowell in Louisiana and helped to support the Rowell family by practicing as a mid-wife. She often got a call for her services at all times of day and night. Caleb would saddle her horse and off into the night Grandma Caroline would ride.

According to one of the grandchildren in the Rowell family, Mrs. Idonia Black, now deceased, as a young child, she recalled staying with Grandma Caroline and said she had a big, beautiful horse, and she would ride side-saddle. She would mount the horse from the high front porch and would pull little Idonia onto the back of the horse with her. Idonia referred to Grandma Caroline as her "Angel Mother." Idonia recalled Caleb?s death when she was about 14 years old. She said the body lay in a casket at the old home-place in Sparta on the south end of the porch. The adults told her Grandpa was asleep and for a long time after the funeral she wondered why they buried Grandpa in the cemetery if he was only asleep.